Xu Lei & Wang Yongping, New York, USA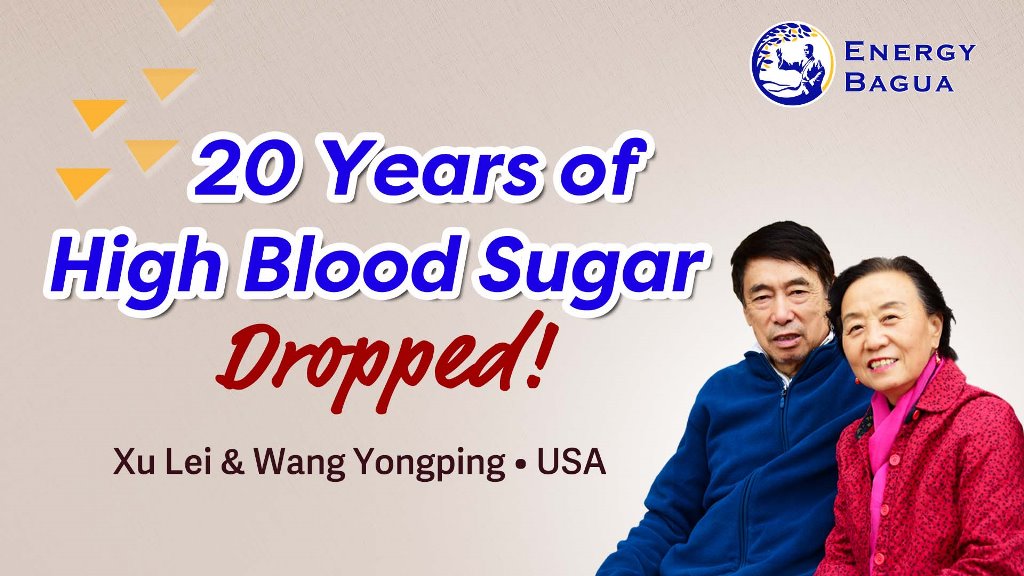 Xu Lei: Decrease in blood sugar level and no more fatty liver
I was introduced to Energy Bagua by my wife Chi Qian and began practicing in January 2015. At that time, I had my initial doubts on the efficacy of it, so I didn't take my practice seriously nor practiced daily.
My wife had a different attitude. She persistently practices Energy Bagua daily at 6:00 a.m. outdoors, even if it's snowing heavily. Slowly, I became influenced by her determination and persistence. I thought that regardless of whether there were benefits from the practice, it's always better to be active outdoors rather than staying in bed every morning. From then on, we practiced together, and this opened us up to the miraculous effects of Energy Bagua.
I had been suffering from high blood sugar level for almost two decades. I also had fatty liver for 15 years and it was severe enough to cause Type II diabetes. My blood sugar level once was as high as 8.8 mmol/L. In August 2016, some months after I started Energy Bagua, I found out that I no longer had fatty liver after two repeated tests! In September 2017, I did another test and found that my blood sugar had dropped to 6.0 mmol/L (Editor's note: The normal range for fasting blood sugar level is 3.9 mmol/L- 6.1 mmol/L). Besides this, my weight dropped from 80 to 70 kg and my waistline went down by almost three inches. Though I started the practice with no particular goal, I am elated by these overwhelming benefits.
Since then, I fell in love with Energy Bagua and follow my wife's footsteps in daily practice. With persistent practice come rain or shine, we enjoy the rejuvenating effects of Energy Bagua.
Wang Yongping: Quickest way to lower blood sugar level and blood pressure
I started Energy Bagua in 2013 and gained many health benefits. In March 2015, I started practicing outdoors and have not stopped. I constantly bear in mind Grandmaster JinBodhi's advice that one should persistently practice Energy Bagua, even in the hottest or coldest weather conditions. New York has harsh winter conditions, but I would still grit my teeth and practice at the park with my full battle thermal wear. There was one morning when it snowed heavily. My husband tried to stop me from practicing in the chilling weather, but I resolutely refused to give in. I had benefitted immensely from Energy Bagua and harsh weather wasn't going to stop me from daily practice.
I used to suffer from hereditary diabetes and high blood pressure. My blood sugar level once went up to 14.3 mmol/L and my blood pressure to 159 mmHg/120 mmHg. (Editor's Note: For adults, high blood pressure occurs when systolic pressure exceeds 140 mmHg and diastolic pressure exceeds 90 mmHg.) For years, even though I was careful with my diet, my blood sugar levels remained elevated. My high blood pressure also caused me to be light-headed and I did not dare lower my head as I went about my activities.
It was lucky I discovered Energy Bagua and that my conditions started improving with practice. My blood sugar level dropped to 6.3 mmol/L and I no longer needed insulin injections and could switch to oral medication instead. After some time, I no longer required medication to control my blood sugar level. My blood pressure also stabilized at 119 mmHg/60 mmHg.
As I recollect these memories, I am moved and have an immense sense of gratitude. One morning, as the snow fell heavily around me, I was so engrossed in practice that I felt myself absorbed into the snowy world. When the music stopped, I found myself covered in snow and had literally become a "snowman." However, my body and heart were warm, fueled by the energy generated from the practice. I offered my deepest gratitude to the tree, the natural surroundings and to Grandmaster JinBodhi for unlocking the key to good health. Every time I reflect on how Energy Bagua changed my life, I cannot help but hold back tears.
The intent of the testimonial is to offer wellness information of a general nature. Individual results of practice may vary.